p35 1817 Journal Thomas Dean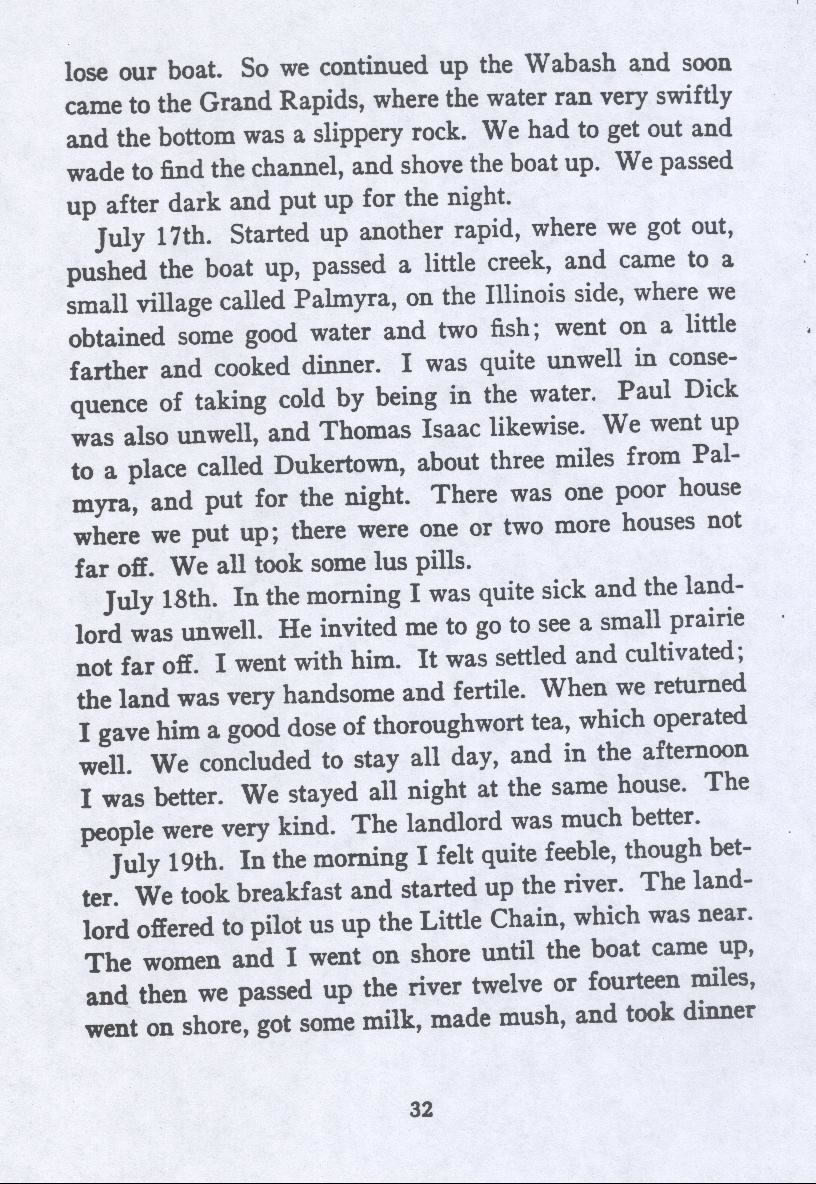 lose our boat. So we continued up the Wabash and soon came to the Grand Rapids, where the water ran very swiftly and the bottom was a slippery rock. We had to get out and wade to End the channel, and shove the boat up. We passed up after dark and put up for the night.
july 17th. Started up another rapid, where we got out, pushed the boat up, passed a little creek, and came to a . small village called Palmyra, on the Illinois side, where we obtained some good water and two fish; went on a little , farther and cooked dinner. I was quite unwell in conse- quence of taking cold by being in the water. Paul Dick was also unwell, and Thomas Isaac likewise. We went up to a place called Dukertown, about three miles from Pal- myra, and put for the night. There was one poor house where we put up; there were one or two more houses not far off. We all took some lus pills.
July 18th. In the morning I was quite sick and the land~ lord was unwell. I-Ie invited me to ga to see a small prairie - not far off. I went with him. It was settled and cultivated; the land was very handsome and fertile. When we returned I gave him a good dose of thoroughwort tea, which operated well. We concluded to stay all day, and in the afternoon I was better. We stayed all night at the same house. The people were very kind. The landlord was much better.
July 19th. In the morning I felt quite feeble, though bet- ter. We took breakfast and started up the river. The land- lord oifered to pilot us up the Little Chain, which was near. The women and I went on shore until the boat came up, and then we passed up the river twelve or fourteen miles, went on shore, got some milk, made mush, and took dinner