p69 1817 Journal Thomas Dean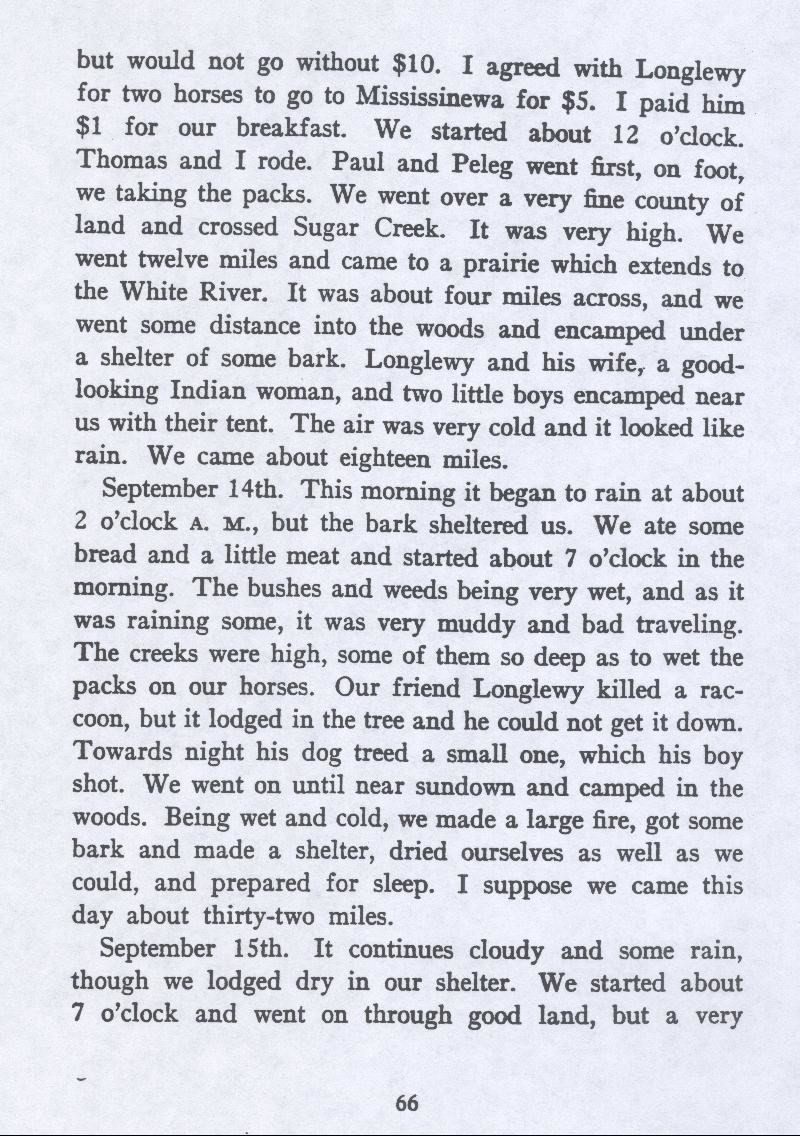 but would not go without $10. I agreed with Longlewy for two horses to go to Mississinewa for $5. I paid him $1 for our breakfast. We started about 12 o'dock. Thomas and I rode. Paul and Peleg went nrst, on foot, we taking the packs. We went over a very line county of land and crossed Sugar Creek. It was very high. We went twelve miles and came to a prairie which extends to the White River. It was about four miles across, and we went some distance into the woods and encamped under a shelter of some bark. Longlewy and his wife, a good- looking Indian woman, and two little boys encamped near us with their tent. The air was very cold and it looked like rain. We came about eighteen miles.
September 14th. This morning it began to rain at about 2 o'dock A. M., but the bark sheltered us. We ate some bread and a little meat and started about 7 o'dock in the morning. The bushes and weeds being very wet, and as it was raining some, it was very muddy and bad traveling. The creeks were high, some of them so deep as to wet the packs on our horses. Our friend Longlewy killed a rac- coon, but it lodged in the tree and he could not get it down. Towards night his dog treed a small one, which his boy shot. We went on until near sundown and camped in the woods. Being wet and cold, we made a large tire, got some bark and made a shelter, dried ourselves as well as we could, and prepared for sleep. I suppose we came this day about thirty-two miles.
September 15th. It continue cloudy and some rain, though we lodged dry in our shelter. We started about 7 o'clock and went on through good land, but a very