creamery history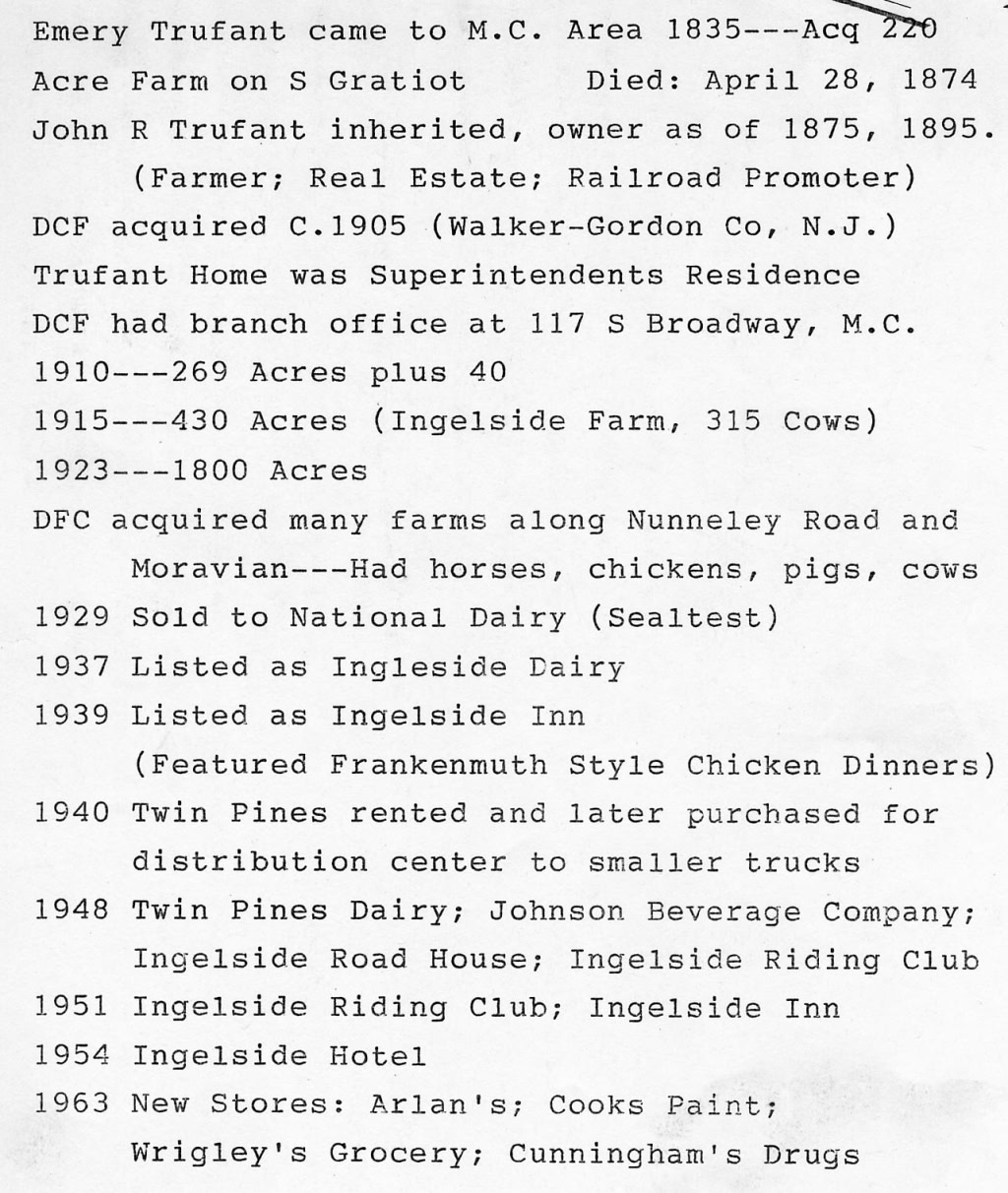 Emery Trufant came to M.C. Area 1835 --- Acq 220 Acre Farm on S. Gratiot Died: April 28, 1874
John R Trufant Inherited, owner as of 1875, 1895. (Farmer; Real Estate; Railroad Promoter)
DCF acquired C.1905 (Walker-Gordon Co, N.J.) Trufant Home was Superintendents Residence.
DCF had branch office at 117 S. Broadway, M.C.
1910 --- 269 Acres plus 40 1925 --- 430 Acres (Ingleside Farm, 315 Cows) 1923 --- 1800 Acres
DFC acquired many farms along Nunnley Road and Moravian --- had horses, chickens, pigs, cows.
1929 Sold to National Dairy (Sealtest) 1937 Listed as Ingleside Dairy 1939 Listed as Ingleside Inn (Featured Frankenmuth Style Chicken Dinners) 1940 Twin Pines rented and later purchased for distribution center to smaller trucks 1948 Twin Pines Dairy; Johnson Beverage Company; Ingleside Road House; Ingleside Riding Club 1951 Ingleside Riding Club; Ingleside Inn 1954 Ingleside Hotel 1963 New Stores: Arlan's; Cooks Paint; Wrigley's Grocery; Cunningham's Drugs
MEMORIES OF RON KEELER
These are only my recollections from the time I was a small boy, I would want that caveat put in because the accuracy may not be perfect. You can use whatever information you want, understanding that it is all heresay. My father and My Grandfather leased 600 acres of the Detroit Creamery Farms from about 1937 to 1945 through World War II. The land consisted of a number of farms and they were identified by number. Creamery Farm #1 was located at the Northeast corner of Gratiot and 16 Mile Rd. (Now Metropolitan Beach Highway). that property had a large Barn, Silo's and Shop building up until the early 1950's. The barns and shop were torn down. The house was a large two family structure with rental rooms for the workers. It was cut in two and moved to the south side of Metropolitan Beach Highway and made into two single family homes, the last time I came through Mt. Clemens, they were still there, two large 1 1/2 story houses with dormers on the frontage rd. south of Metro beach Highway. Our family lived in a big square farmhouse on Moravian Drive, which was also still there a few years ago, the barns were there also. It was located on the east side of Moravian on the curve about a 1/4 to a 1/2 mile north of the McArthurs Apple Orchard and across the street from the Devantier property. My Grandfather moved in to No. 3 on Little Mack about a 1/2 mile south of M-97. Later the Young family moved into that house with 13 children. My Grandfather bought some land, I thin it was about 15acres south of No. 3 from the Creamery Farm owners and built a house on the west side of Little Mack and later converted an old Granary in the rear to a single family house. My aunt and uncle (Floyd and Dorothy Cumper) built a house up close to Little Mack on a parcel my grandfather sold to them. during World War II my father and grandfather grew cash crops of wheat, corn, millett and oats for the war effort. Dad bought the firs PTO powered combine in Macomb County in 1938. We used that combine until he quit farming in New Haven in 1960. there were several other farms which Dad leased from the Creamery Farm owners which had number designations, I know there was a Number 16 which may have been the Hintz Farm and a Number 5 which I don't remember where it was located. I was only 2 1/2 years old when their lease ran out and we moved to new Haven, but I remember later going to No. 1 where my Aunt and Uncle lived on one side of the two family house and my grandfather and grandmother lived on the other side, and also to No. 3 where my grandparents lived. So there are some remanents of the Creamery Farm buildings, but certainly not in the form they were in at that time. My Dad used to hire quite a number of young men who were in high school at the time, especially during the harvest season. I assume you know that during the war there was a "bawdy house" at the end of Little Mack on the north side of Harrington just west of Groesbeck. There used to be s steady stream of soldiers frequenting the place as I've was told by my parents many years ago. The area which is now Seminole Hills was one big cornfield in those days. My dad said the field ran from Harrington on the north all the way down to 16 mile Rd. and was a mile long.
My dad's name was George Keeler and my Grandfather was Perle Keeler.
Ronald Keeler
Tucson, AZ. 85730
appronkeel@keelerandassoc.tuccoxmail.com