LOOKING BACK : THE LEADER PRESS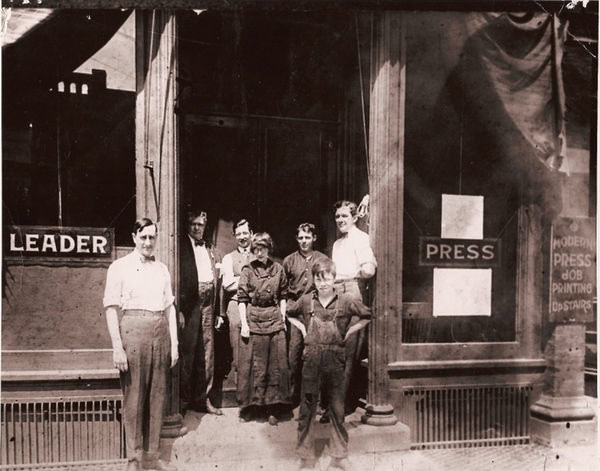 This photograph takes us back to sometime between 1916 and 1918 at the old Leader newspaper office that stood at 61 N. Walnut St. in Mount Clemens. The staff was small at this time, and the location later became the home of Nunnley's Shoe Store. Albert J. Tufnell, pictured far left, operated the print shop with his father, Harold Tufnell, and Arthur West. The others pictured, from left, are Charles D. Straight, editor; Samuel Norton Price, publisher; Maybelle Russell, women's editor; Bert Lorway; Alan Straight; and Red, otherwise known as the printer's devil. At the time this photograph was taken, the Leader's editorial staff consisted of Eddie Vaile as city editor and E. Byron Brand, Pete Whelihan, Ralph Aldrich Jr. and Miss Russell as reporters. Ralph Aldrich was nicknamed "Skipper," for he was known for rowing a boat three days along the Clinton River to return home from a Mount Clemens Old Crowd reunion. Ed Brand went on to write for the Detroit Times, and Whelihan became a rewrite man for the New York Daily News.
Paul McKee operated eight weeklies in various Macomb County cities, including the Monitor in Mount Clemens. He established the Daily Monitor in 1940, which acquired the Leader the following year, changing its name to the Daily Monitor-Leader. McKee's family had owned the South Macomb News, which had progressed to become the Tri-City Progress in 1953. On Sept. 1, 1953, the Daily Monitor and the Progress merged into the Daily Monitor-Progress. In 1964, the Monitor-Progress and the South Macomb News eventually merged into the Macomb Daily. At that time, the Macomb Daily had a staff of 24 newsmen, four photographers and 200 full-time employees.
Written by Kim Parr, Director of the Macomb County Historical Society and Crocker House Museum, located at 15 Union St., Mount Clemens, MI 48043 (crockerhousemuseum.com)