p12 1817 Journal Thomas Dean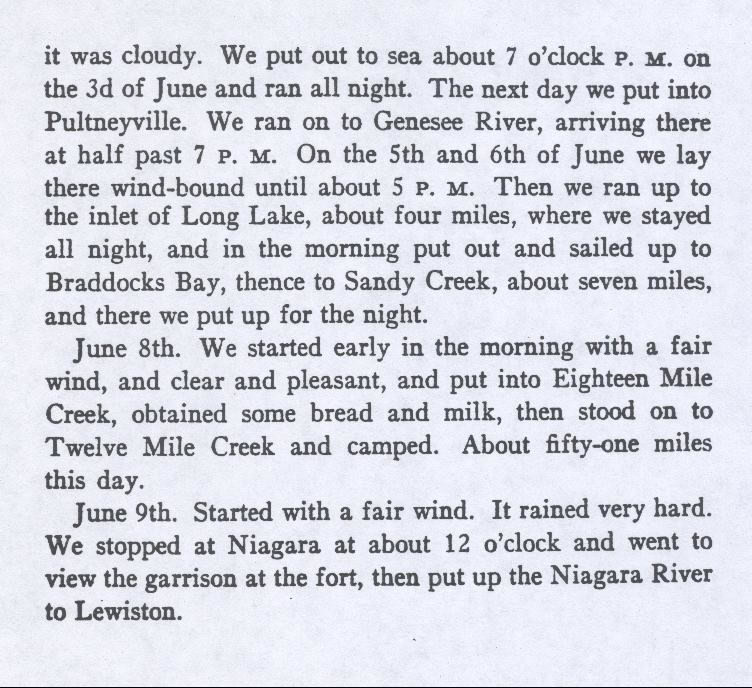 it was cloudy. We put out to sea about 7 o'dock r. M. on the 3d of june and ran all night. The next day we put into Pultneyville. We ran on to Genesee River, arriving there at half past 7 P. M. On the 5th and oth of June we lay there wind~bound until about S P. M. Then we ran up to the inlet of Long Lake, about four miles, where we stayed all night, and in the morning put out and sailed up to Braddocks Bay, thence to Sandy Creek, about seven miles, and there we put up for the night.
June Sth. We started early in the morning with a fair wind, and clear and pleasant, and put into Eighteen Mile Creek, obtained some bread and milk, then stood on to Twelve Mile Creek and camped. About fifty-one miles this day.
June 9th. Started with a fair wind. It rained very hard. We stopped at Niagara at about 12 o'clock and went to view the garrison at the fort, then put up the Niagara River to Lewiston.